28 Jun, 2020
My goal for the blog this month was to write a piece about our very first and original product, the StayPut Connect Picnic Blanket. I started putting pen to paper. I wrote about how it was inspired by our first kid and his first trip to my favorite summer event, AirVenture in Oshkosh WI, when he was only 6 months old. I started putting everything together then it hit me, our friends Maura and Bobby over at We Found Aventure already wrote up a pretty comprehensive, and independent review on the blanket and I made reference to in the first blog post. Maura did an excellent job in her blog so I decided to repost it here:
Companies frequently contact us asking to review or promote their products. More often than not we turn them down as we don't like the quality or don't think it's a product that families should invest in. We were a bit hesitant to test and review the StayPut Connect™ Picnic Blanket because we weren't sure what would be special about a blanket? However, the company that makes them, Outdoor Donkey, is based here in Minnesota and we instantly connected with the founder and owner, Sean. We love supporting our local companies and appreciated this company's attention to detail. They made the effort and went the extra mile to personally design and create a new type of stake made specifically for this blanket.
When the blanket arrived we were initially disappointed by how large the bundle was and weren't sure if it would be worth it to haul it into the Boundary Waters Canoe Area Wilderness (BWCA) with us for an extended trip over Labor Day weekend. But, we promised we'd give it a thorough test and some honest feedback so we loaded it into our portage pack.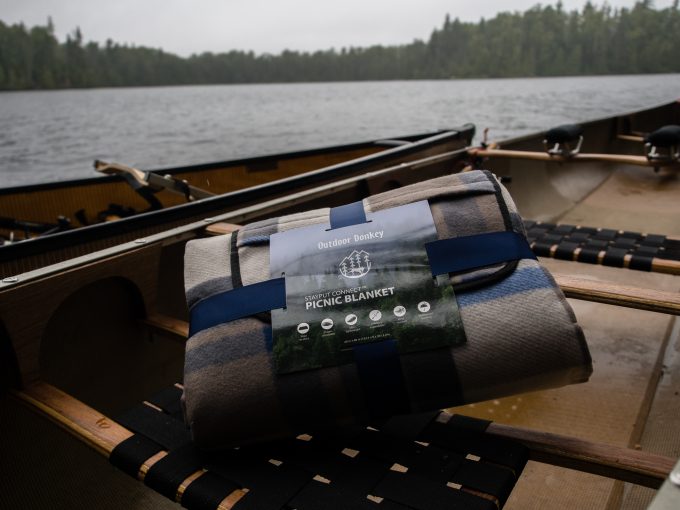 We had three crazy kids, 5 similarly crazy adults, and one German Shepherd along on this four day, three night canoe expedition in the BWCA. It rained a couple of the days and was generally a damp trip. Camp was a busy, high energy space with lots going on at all times.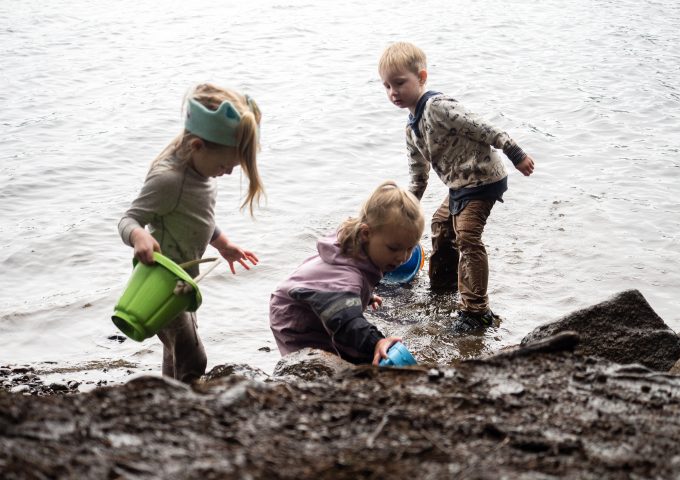 Our first campsite was spacious and woodsy and had the perfect spot for our Nemo Bugout 12×12 tent. Along with a couple of camp chairs for adults, we spread out our brand new StayPut Connect™ Picnic Blanket under the protective canopy of the screen tent. The kids were immediately drawn to the space and began setting up toys and playing games. The day was soggy and it was a nice reprieve for them to get out of the drizzle and onto something not nearly as filthy and damp as the forest floor or themselves.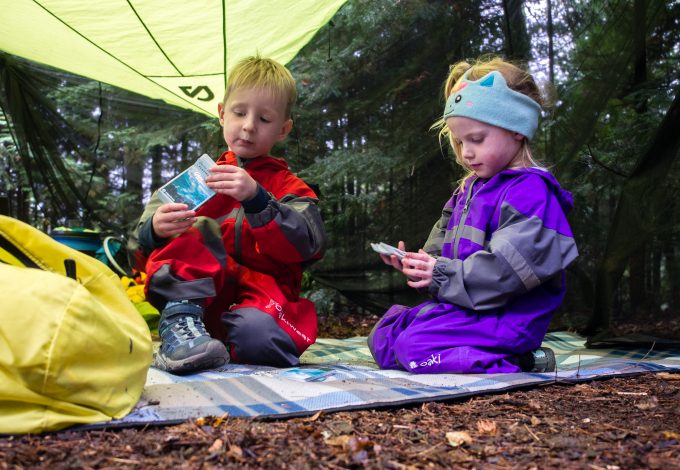 By the time bedtime came around and we were prepping camp for the night's slumber the blanket appeared to be filthy. We shook it off well and it was suddenly clean. Despite three kids and one dog running over and around this thing with wet, muddy feet and paws it cleaned up amazingly well.
We moved campsites the following day, going deeper into the wilderness and the only campsite available to us was slightly smaller and less magical but still a great spot for the kids to explore and enjoy living in the wilderness. We once again set up the StayPut Connect™ Picnic Blanket as a place for the kids to play on, dirt free when they felt like it. They transformed the blanket into a safe space to draw, play cards, read books, and play with action figures.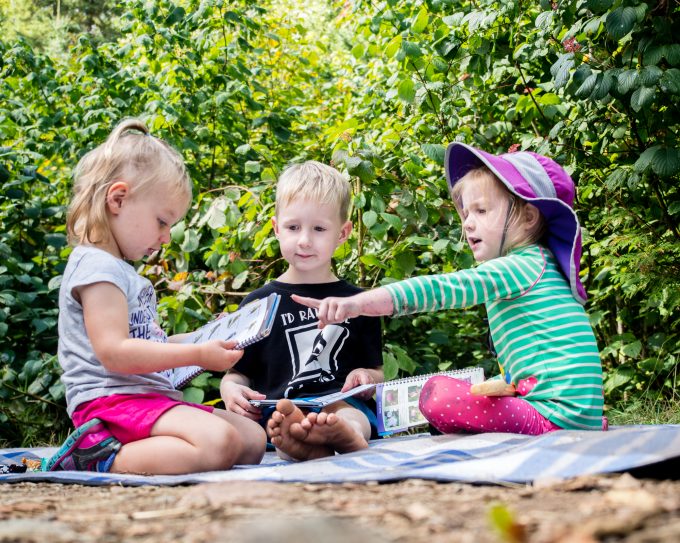 And maybe eat a few campfire treats…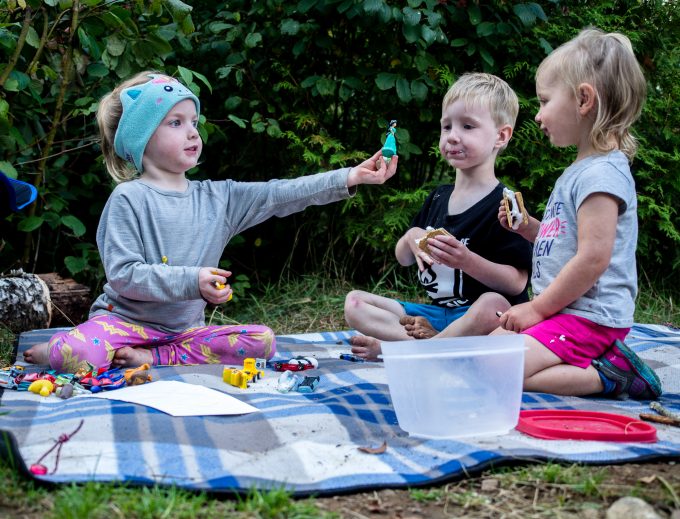 As I said previously, going into this product review I was skeptical. Would a blanket ever really be worth the $40 price tag? My answer is Yes. It cleaned up so well despite some serious use and abuse, only one stain appeared all weekend (when Rowan peed on it…). Having a clean space in the wilderness for play, food, and diaper changes was incredibly nice. It is a fairly bulky so, probably not a great product for backpacking families but for car camping and even canoe camping I highly recommend this product. I wish we would have had it when our kids were younger babies. Having a space for them to sit, or do tummy time in camp was always an issue for us. We would put a blanket down but they would quickly make a mess of it with tiny, kicking feet and busy hands. The stakes keep this blanket comfortably in place and the waterproof backing keeps tiny rumps dry (even after a serious thunderstorm and soaked campsite).
For those with animals that go camping or paddling with them this is a great option for a soft, clean spot for pups to relax in while at camp. Lily (the German Shepherd) had a bed along but due to the intense rains we endured it never fully dried out. This blanket, with the waterproof backing, was a much better solution for a clean, dry space for those necessary puppy naps.
If you'd like this blanket for your family you can buy it on Amazon: StayPut Connect™ Picnic Blanket
Credit: Originally posted on We Found Adventure on October 5, 2018.
---